With a Markup Hero Superhero Plan you can add titles, star markups, and add markups to collections to help keep your history organized. Once added you can filter and search by those titles, star tags, and collections.

Title Markup
Title any markup to help yourself find it quickly in your history. You can add and edit titles from both the markup page or your history page.

Star Markup
Star any markup to mark it as important and help yourself find it quickly in your history. You can star markups from both the markups page or your history page.


Sort Markups Into Collections
From the history page drag markups to the corresponding collection or create a new collection by dragging a markup to the area the says "Drag Here For New Collection." Make sure to click and hold on the thumbnail for a second before dragging. You will see the thumbnail attach to you cursor (or finger on touch devices).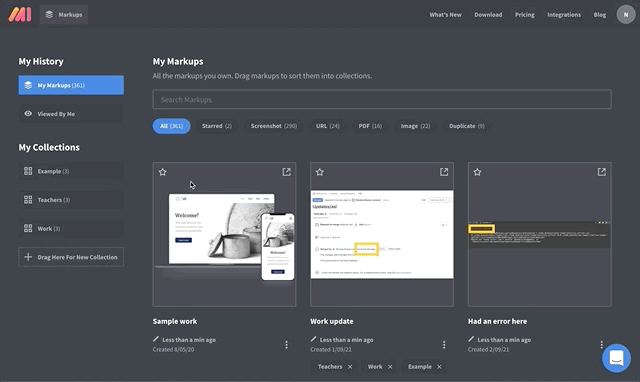 From the markup page add the markup to collections by clicking on the collections button. Then simply beginning to type in the Add Collections input. The input will autocomplete with collections you have already used or you can add a new collection by hitting enter.


Default Filters
Use the default filters to quickly filter your markups by type: All, Starred, Screenshot, URL, Image, PDF, Duplicate.

Search Markups
You can easily search for markups by title, filter or collection using the search input.